ABOUT THE BAND
For those who don't know Andre Williams, he is best known for co-writing "Shake A Tail Feather," which was a Billboard Top 25 Hit in 1967 recorded by James & Bobby Purify. It has been placed in films and has been recorded by many other artists. I was in awe when I found out that my friend Ron Bartolucci was bringing him to Boston, so we met and discussed recording an album on the Black Rose label. I put him up in my house for a week while we recorded and got him a gig at Johnnie D's in Somerville, MA. I have to admit that it was a difficult project, but we did it. Andre's vocals were very weak at the time, so Tom Hambridge & I decided that we would have to overdub them. Tom was living in Nashville, I was in Boston, and Andre was in Chicago, so we all met in Chicago at Rax Trax Recording Studios, where Alligator Records often recorded, and redid Andre's vocals. It worked out and we released the album. I have to give a big thank you to my friend Tom Hambridge for really stepping up to the plate and putting everything in place. Among many things, he is a great producer, but mostly he is my friend. I had never met Zac Pike before recording this album; he lives in California, playing guitar professionally. Andre Williams still performs all around the world.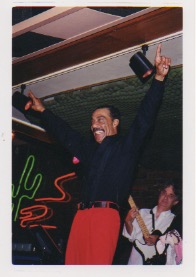 Band Members:
Andre Williams: Vocals
Silvertone Steve: Lead & Slide Guitar
Zac Pike: Rhythm Guitar
Ted "Houserockin'" Harvey: Drums
Tom Hambridge: Drums & Percussion
Tom Jesser: Harmonica & Piano
Dick Lourie: Saxophone
Kenny "The K" Krumbholz: Bass Guitar
Liz Lannon & Marcia Devine: Background Vocals
Produced By Tom Hambridge
Recorded & Mixed By Ducky Carlisle At Room 9 From Outer Space South Boston, MA.
Additional Recording By Joshua Shapera At Rax Trax Chicago, IL.
Mastered By Jim DeMain At Yes Master Nashville, TN.